Nursing at CHLA
As a nurse, you approach care with energy and resolve. When you join us, you'll find the perfect environment to develop your nursing career. We stop at nothing to make sure that every patient we see gets to enjoy all the special moments of childhood. At CHLA, we do our best to offer health and hope.
With a collaborative model and multidisciplinary approach, we embrace teamwork in everything we do. That helps our nurses make a difference where it matters most—in delivering compassionate, expert bedside care. The skill and uncommon dedication of our nurses explains why we're one of the few hospitals to earn Magnet® recognition from the American Nurses Credentialing Center.
Our commitment to care begins with our professionals, and as an organization, we're equally committed to supporting your career goals. As just one example of the support you'll find here, we are the founding hospital for the Versant RN Residency Program, now implemented across the nation to improve nurse education. With numerous opportunities for training and mentorship in a range of specialty areas, at CHLA, you'll have the resources and encouragement to develop your nursing career. If you're ready to make a difference for thousands of children while elevating pediatric medicine as a whole, join us.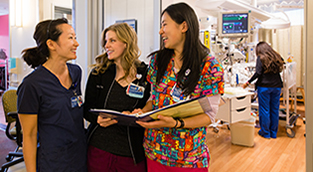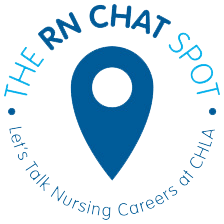 If you're an RN looking to turn your career into something more at CHLA, take advantage of our RN Drop In Hour. Every Tuesday from 2-3pm in the HBO Café, our Talent Acquisition Consultants are available for you to come in, chat and learn more about building your nursing career here with us. No appointment necessary – just grab your resume, come on in and introduce yourself! We're located at 4650 Sunset Boulevard, Los Angeles, CA 90027. For more information call us at 1-866-CHLA-HIRE.
Transitioning to Pediatrics

VERSANT TRANSITION RN FELLOWSHIP

Children's Hospital Los Angeles offers an exciting training program for the experienced registered nurse who is interested in transitioning to an acute care pediatric setting. Each transition RN fellowship receives an individualized learning plan for competency acquisition based on a performance gap analysis process.

Recognition

Highly acclaimed nursing care

Children's Hospital Los Angeles is highly regarded by many national organizations. We are proud to be ranked as a top hospital for children by U.S. News & World Report and to have received Magnet Recognition for our highly acclaimed compassionate nursing care. Our hospital has been named the best children's hospital in California and among the best in the nation for clinical excellence with our selection to the prestigious U.S. News & World Report Honor Roll.

Learning experience

RN Residency in
Pediatrics

New graduate nurses need extended clinical experiences with appropriate support systems for a successful transition from nursing student to professional nurse. At CHLA, we understand the needs of new graduate nurses as they integrate into the profession. To meet those needs, we offer the Versant RN Residency in Pediatrics program, which provides the specific tools and experiences needed by new graduates to become successful pediatric nurses.
Meet Kim Wheatley

Nursing - Emergency Dept

"I love working at CHLA because I have the best work family ever. I laugh and smile every day, regardless of how difficult a shift may be. I'm extremely blessed to have a job that I truly enjoy, and fortunate that I get to work with the smartest, most supportive team day in and day out."

Meet Allison Fell

RN - Operating Room

"I love working at CHLA because you are able to develop your clinical skills in your Evidence Based Practice, but at the same time you need to be able to be silly with a patient if that's what the situation requires."