About the RN Residency Program
At Children's Hospital Los Angeles, it is our goal to take care of acutely ill and injured children in today's increasingly complex technological environment. New graduate nurses need extended clinical experiences with appropriate support systems for a successful transition from nursing student to professional nurse.
At CHLA, we understand the needs of new graduate nurses as they integrate into the profession. To meet those needs, we offer the Versant RN Residency in Pediatrics, which provides the specific tools and experiences needed by new graduates to become successful pediatric nurses.
CHLA is the founding hospital of the Versant RN Residency. Created in July 1999, the 22-week program provides new nursing school graduates with a comprehensive clinical and learning experience to prepare them for work in an acute care environment. It has become the model for new graduate nurse residency programs throughout the United States.
Important Dates
Online Applications
The September cohort applications are now closed. The next cohort will be held on March 2018. The March 2018 cohort applications will open on September 4, 2017. All applications received by October 11, 2017 will be given primary consideration but the application will remain open for certain departments.

Packet Deadline
The March 2018 cohort application packets will be due online by October 11, 2017 at 4:30 p.m. but will remain open for certain departments.
Interview Process
If you are selected for an interview, you will be notified via phone by November 6, 2017. Please allow Human Resources and the Unit Managers time between the packet deadline and interviews to review packets and make their selections. We appreciate your patience.
Upcoming Program Dates
March 2018
September 2018
Resident Curriculum
One-to-One Preceptor Training
At Children's Hospital Los Angeles (CHLA), our RN residents spend 75% of the program time receiving one-to-one precepted training in the clinical setting. Our preceptors are experienced bedside pediatric nurses who are specially trained to provide expert clinical guidance to the resident.
Skills and Practice
RN residents spend the remaining 25% of the program time in the classroom and skills labs, taught by our expert pediatric nurses and subject matter experts. These sessions give the residents the tools necessary to make the transition from new graduate RN to specialty pediatric RN.
Dedicated Mentors, Coaches and Resources
Mentors are provided to help guide the resident in their career development and provide them with the tools needed to grow professionally.
Supportive Debriefing
Our RN residents participate in debriefing and self-care groups throughout the program. Our debriefing sessions are mediated by various members of our multidisciplinary team. In these forums, residents can gain skills to help manage stress and share experiences in a supportive and non-judgmental environment.
Looping
The looping experience is an individualized rotation/orientation to all appropriate hospital areas relevant to the resident's home unit.
How to Apply
You are eligible for the RN Residency program at Children's Hospital Los Angeles if:
You have been out of Nursing school for two years or less.
You are a new graduate or an RN with a total of less than one year of nursing experience in any area by the start of the program.
You have a Bachelor of Science in Nursing or a Master of Science in Nursing.
Application
New Process:
While we are accepting applications, search for "Versant RN Residency Program" positions here and apply online to the area of your first choice.
Please complete the entire online application along with the packet. Packets are to be uploaded as a PDF where it indicates to upload your resume. If your PDF is larger than 4 MG it will need to be separated and one part will be loaded in the Upload Resume and the other in the Cover Letter section. A complete packet will need to be uploaded when applying. See below.
Complete the Packet On-Line as a PDF.
A resume and cover letter
Current transcripts (official or unofficial)
Two letters of recommendation – one from a clinical instructor (preferably a pediatric instructor) and the second from another clinical instructor, professional, or personal reference
Letter of Intent – a statement describing why you are interested in working for the unit 500 words or less
Signed Application & New Hire Process and Licensure & Vacation Statement forms
Attached below are the forms to be submitted and additional information for you to print.
Interview Process
After you submit your packet on-line it will be reviewed by the Manager and the RN Residency committee. If you are selected for an interview, a Talent Acquisition Consultant will contact you.
The number of positions in the program is limited. If you are not contacted for an interview by a Talent Acquisition Consultant, then you were not selected for an interview. The minimum requirements are a BSN or MSN and a GPA of 3.0 or above.
Note: You must have your active California RN license by the Monday prior to the start of the program (one week prior to the start of the program) and you must have an active American Heart Association BLS (CPR) card to start the program.
Learn more about this opportunity and other educational services and programs here.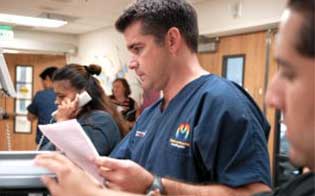 Program Recognition
Children's Hospital Los Angeles is recognized throughout the United States and around the world for our leadership in pediatric and adolescent medicine, as well as pediatric research. As a Magnet-designated hospital, CHLA is one of America's premier teaching hospitals, affiliated with Keck School of Medicine of the University of Southern California for more than 73 years.
In 2015, the RN Residency in Pediatrics at CHLA was designated as Accredited with Distinction by the American Nurses Credentialing Center's Practice Transition Accreditation Program. This program recognizes transition programs which meet the highest quality standards. Currently, only five programs across the United States have achieved this designation.
Program Evaluation
At Children's Hospital Los Angeles, we are constantly looking for evidence-based methods of growing and improving the RN Residency program. Feedback from our previous RN Residents is precious to us in our efforts to improve our program. We approach previous RN Residents annually for 5 years after completing the program for feedback on how to improve our program.
Results of Previous Evaluations
Feedback received from program graduates has resulted in significant changes to the way the program is delivered. A few examples of these changes include:
Making classes more interactive
Increasing direct applicability to nursing practice
Focusing mentor meetings on career and professional development
Reordering skill labs so most important skills are taught earlier in the program
Evaluations have also helped us show the value of this great program as, over the last ten years, we have decreased turnover among new graduate nurses.
One year turnover rate: reduced from 36% to less than 6%
Two year turnover rate: reduced from 56% to less than 13%
nursing units and Specialties
Children's Hospital Los Angeles (CHLA) offers nurses and RNs the opportunity to specialize in several critical care areas, including cardiovascular care, critical care, hematology-oncology, medical services, rehabilitation, and surgical.
Are you an experienced RN?
Learn about our RN transition residency in pediatrics Program
RN Residency Program at CHLA
At Children's Hospital Los Angeles, new nursing grads get mentorship while learning hands-on skills for providing care for sick and injured children at our hospital.
Our program is a national model for helping new nurses learn to provide care for children.